In case you didn't know (and let's be honest-why would you?), in the United States today is National Roller Coaster Day. Many theme parks are open, with social distancing and precautions in place, so I suspect that a fair number of people will be (likely unknowingly) celebrating this "holiday" today. Speaking of precautions, I can't help thinking about the Japanese amusement park that, last month, requested that visitors resist screaming on rides in order to minimize the Covid risk. Instead, the park urged, patrons should "scream inside your heart". If you missed this particular example of 2020 weirdness, the demonstration video the park put out was oddly hilarious. Here's a sample:
This is the first summer since I was five or six that I haven't made at least one visit to Six Flags St. Louis, a tradition that now includes three generation of the Cade family. My sisters and I were discussing that just the other day, reminiscing for a while about both our local amusement park, as well as our first trip to Disney World, which has become something of a family legend (That particular story has also been on my mind lately because I'm finally nearing completion of my own basement upgrade). It was good to focus on the happy memories rather than the disappointment of missing this year (our family continues to be extremely cautious about Covid risks), and to talk about things we'll be doing at some point in the future.
Eventually, of course, someone had to make a "coronacoaster" comment. We've definitely been feeling the ups and downs and uncertainties of these past months. Many of our local school districts ultimately decided to open virtually, including the school Audrey's girls attend. Amy's district is offering in person instruction, but she chose virtual learning instead. So they'll be continuing the balancing act that all parents have been dealing with since shutdowns began back in March. I don't know how they do it, but they're both optimistic and determined to get it right (and so are Cassidy, Carly, and Cat, because they're the greatest kids ever).
As for yours truly…tomorrow morning I will be at my desk at work (deep breath). Two weeks ago, I was feeling fairly comfortable with the idea, but now that it's upon me, I'm definitely feeling some coronacoaster stress (side note: this morning I found this article, published just a few hours ago, that I found really helpful). I know that I'm very lucky to have been able to work from home all this time, an opportunity that a lot of people didn't have. However, with cases in my city and state higher than they were when we were sent home in March, I don't love the idea of venturing back into the physical workspace. My coworkers who have kids are especially stressed due to child care concerns.
Luckily, my employer's plan seems to be changing. On Friday, we received notice that tomorrow we will be "discussing options for ongoing remote work". I spoke to my supervisor, the amazing Maria, and she told me that while discussions and details are ongoing, she believes there's a good chance that most of us will be approved to work remotely most of the time, at least until community spread has decreased (although Maria herself will be required to be at work full time). I'm definitely looking forward to receiving more information tomorrow, and cautiously hopeful.
In the meantime, I'm spending Roller Coaster Day trying to stay off of the coronacoaster. I have some shelving to finish in the basement, and I also plan to engage in my favorite stress reliever: baking. Specifically, I'm going to make some treats for my team, and a box of Maria's favorite cookies just for her (and, I'm assuming, her kids…but I definitely won't judge if she keeps them all for herself). I can't control the ups and downs, but I can control how I react to them. No need for my heart to be screaming. 😉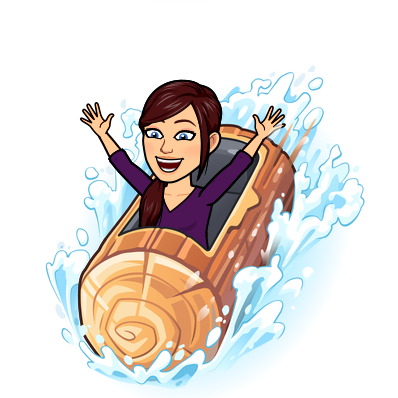 Are you feeling the roller coaster lately, or is your metaphorical ride running smoothly? How are things going for you?